A Glance at the Life of a Modern Day Explorer
Named one of the greatest living explorers and even called "Canada's Indiana Jones" by the Toronto Star, Adam Shoalts is a professional adventurer.
His career has included mapping rivers, leading expeditions sponsored by the Royal Canadian Geographical Society and Mountain Equipment Co-op, numerous archaeological digs, photographing elusive and rare wildlife, and completing a nearly 4,000 km solo journey across Canada's Arctic. His greatest love, however, is simply spending time in the outdoors.
Shoalts grew up in rural Canada with a forest on his doorstep, and it was there that his father, a woodworker, taught him to love and appreciate trees and plants. Together, they built birch bark canoes, paddles, and anything else that could be crafted from the forest. Later, Shoalts worked as a nature writer and survival instructor, but his passion always remained for just being in the woods.
Shoalts has written about edible mushrooms, deforestation, and watershed pollution in northern Canada. His writing career began with his "Reflections of a Naturalist" column on wild animals and environment issues, which later led to his #1 national best-seller Alone Against the North, the award-winning story of his adventures.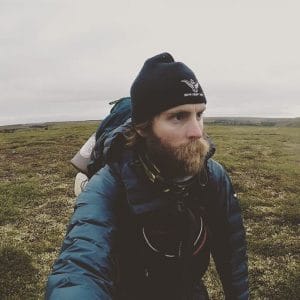 Next to the woods, Shoalts second favourite place growing up was the library. If he wasn't exploring woods he was exploring books, which led to him graduating from Brock University with an Honour's B.A. and being named top student in the Humanities. He subsequently completed a Master's degree and PhD at McMaster University, where his research combined an interest in wild animals, the natural world, history and geography. He has done archaeology in four countries and presented archaeological papers at academic conferences.
Shoalts is a regular guest on television and radio, and his work has been featured in media around the world, including the BBC, CNN, CTV, CBC, and The Guardian. In 2016, Shoalts was named a national champion of the Trans-Canada Trail and in 2018 Explorer-in-Residence of the Royal Canadian Geographical Society; although he's not resident and keeps wandering the woods.
Shoalts has a particular concern for preserving wild places. In 2008, he was presented with the Niagara Region's environmental award for his work on local watersheds. Shoalts is a popular guest speaker and has entertained audiences at venues across Canada.
Beyond the Trees is the story of Adam's harrowing, nearly 4,000 kilometre canoe journey across Canada's arctic in 2017…alone. A journey spanning nearly 4 months, the book tells the tale of weaving through ice floes, facing down snarling bears and galloping musk-ox, and paddling under the midnight sun in a land as old as time. But also why we urgently need to save vast wild places while it's still possible.